Founded in July 2019, we have been working to motivate and empower compassionate caretakers through education and resources as well as equip them with necessary supplies and support to carry out the process of Trap Neuter Return.
Volunteers Supporting Your Efforts
Stray Cat TNR does not set or monitor traps. As a caretaker or property owner, our program requires your participation so we may work together in the most efficient way possible to ensure your outdoor cats live happier, healthier lives through spay and neuter. We want you to feel comfortable with the process and we can teach you what you need to know. We believe anyone can TNR and we are here to help you!
We focus on minimizing stress for you and your cats during this process.
Trap
We loan traps and supplies to you and show you how to humanely trap your outdoors cats and kittens over the age of 2 months.
Neuter
Cats are taken to a licensed veterinarian, experienced in dealing with feral cats, so they may be spayed/ neutered, vaccinated and eartipped (for identification).
Return
Cats are returned back to their original outdoor location to live out their lives in a familiar environment.
TNR - The Most Humane Solution
Spaying and neutering controls the growth of feral colonies and reduces nuisance behaviors such as spraying/ marking by males, fighting and noisy mating.
One of our goals is to help shelters reduce their intake and euthanasia rate by returning cats to their original outdoor environment to live out their lives. Our main objective is to promote TNR awareness and educate the community about this process and its benefits. Call, text or email so we may discuss your specific circumstances to figure out the best possible way to help you and your feline friends.
To schedule a spay/neuter appointment for your friendly cat(s), visit: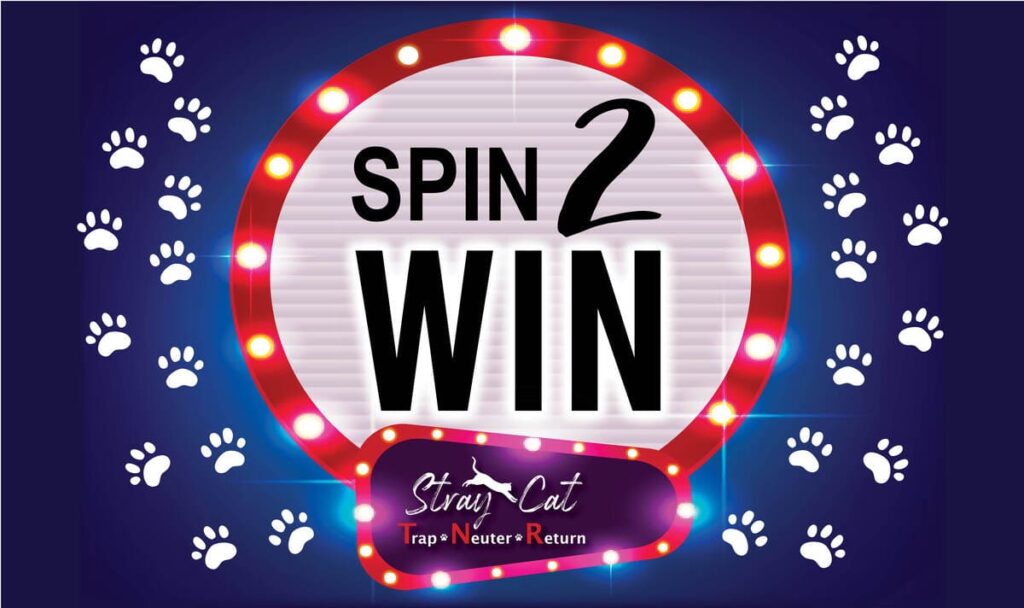 Play SPIN 2 WIN, our super fun fundaraiser game on Facebook, and win brand new prizes for your kitties (and yourself!) while supporting our mission.
Let's discuss your circumstances to figure out the best way to help your outdoor feline friends.